Con Chrisoulis Archives CCA001 — CLANS Issue 1
€

4.90
On sale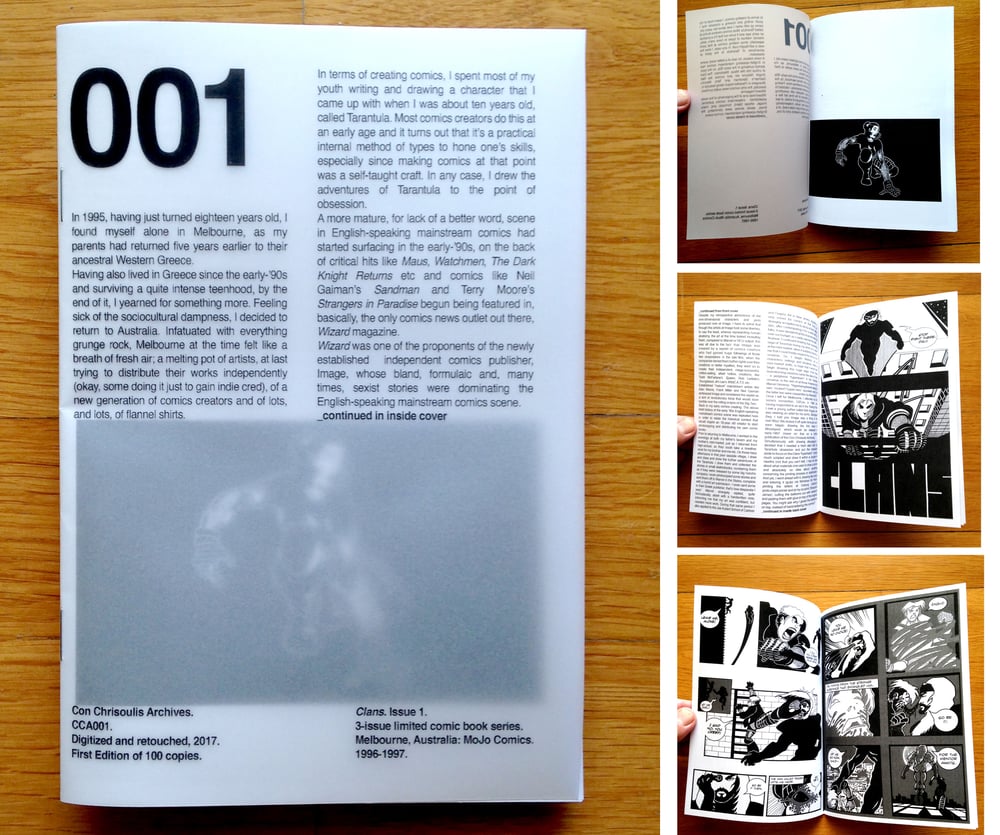 Written and illustrated in 1996, CLANS Issue 1 is the first reprint from Con Chrisoulis' Archives series — numbered CCA001. The reprint represents Con Chrisoulis' first attempt at self-publishing a comic book 21 years ago in Melbourne, Australia, the story revolving around a clan of alien hyperbeings that band together in order to defend themselves from an unknown enemy.
The reprint consists of a retouched version of the first issue of CLANS, as well as a long introduction by Con Chrisoulis regarding the sociocultural origins of the comic book. The issue also includes the very first review of the comic — and of Con Chrisoulis' career — from COMICEDGE magazine #12 (Melbourne, Sep 1996).
CCA001 info:
Size: A5 (15x21cm/5.8x8.3in)
Colour: Black and white
Pages: 24 pages (cover to cover)
*Con Chrisoulis is a multidisciplinary creator who has been self-publishing comics since 1996 (CLANS, TALES OF UNSURPASSED VANITY, GIANT-SIZE FASCISTS etc), as well as concept albums (AUTODIVINE, GHOSTS OF FUTURE PAST etc). He is the creator of DRYLAND (Markosia, 2016), about the violent deaths of his ancestors during and pre-WWII Greece, as well as TALES OF THE SMITHS (Omnibus, 2017) and REBEL REBEL, the graphic biographies of Morrissey & The Smiths and David Bowie respectively.